DUE TO HEALTH REASONS, THIS CONCERT HAS BEEN POSTPONED. IT WILL BE RESCHEDULED WITHIN 6 MONTHS OF THE ORIGINAL DATE.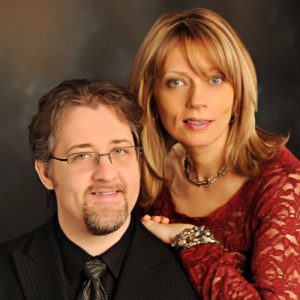 On Sunday, February 9 at 2:00 pm, Classic Pianos of Bellevue and the Seattle International Piano Festival presents the works of Robert Schumann featuring pianists Ivona Kaminska and Christopher Bowlby. This duo team has received acclaim in Italy, Spain, France, Poland, Canada, and the USA for their four-hand piano performances, and now splits their stage time at RESONANCE in two halves as soloists. Hear them perform two of Schumann's immortal sets for the solo piano, including his imaginative and lively Carnaval, Op.9, and the epic Symphonic Etudes, Op.13.
Funds raised from this concert benefit the Seattle International Piano Festival, a 501(c)(3) charitable organization hosting a bi-annual international piano competition at Benaroya Hall.
TICKETS
$25 General Admission
$15 Students and Seniors (children age 18 and under, or 19+ with valid student ID, seniors 55 or over)
LOCATION
This event takes place at RESONANCE at SOMA Towers in Bellevue, 288 106th Ave NE, Suite 203
BIOGRAPHIES
For over twenty years, pianists Ivona Kaminska and Christopher Bowlby have established themselves internationally as a sought-after piano duo team, as soloists, instructors of highly gifted students, and as clinicians and lecturers at prestigious festivals and international competitions. Having met in 1996 at the University of Nebraska in the class of the award winning Clinton/Narboni piano duo, it was only natural that the Kaminska/Bowlby collaboration would begin.
Polish-born pianist, Dr. Kaminska-Bowlby received her master of arts and post-graduate artist diploma in music from the F. Chopin Music University in  Warsaw, Poland where she studied with Professors Andrzej Stefansky and Tatiana Shebanova. Her further studies brought her to North America, where she met her husband Dr. Bowlby, after which the duo team continued studies in the USA and Canada, receiving advanced degrees in piano performance.
Both pianists maintain a busy concert agenda as soloists and collaborators, in addition to a demanding teaching schedule in Washington State. Their teaching and adjudicating engagements have taken them to Barcelona Piano Academy, Spain, Music Lyceum In Warsaw, Poland, Thalberg International Piano Competition in Naples, Italy, aside from many local festivals and competitions in Washington, Oregon and California. They appear as lecturers and guest performers at state, regional and national Music Teachers' National Association (MTNA) conventions.
Their versatility and wide-ranging repertoire has been enthusiastically received on the international stage, including performances at Salle Cortot, Paris, Atherton Recital Hall in Honolulu, Weill Recital Hall at Carnegie Hall, New York City, Castello Visconteo Sforzesco di Galiate in Italy, the Biblioteca Nacional de Cataluña in Barcelona, among numerous other venues. Their repertoire ranges from the standard masterworks for 4-hands, including Schubert's F minor Fantasia, to debuts of new works by living composers, including Jeff Junkinsmith's "Rashomon" (2005) and works by Polish composer, Anna Ignatowicz-Glinska.
Ivona Kaminska-Bowlby and Christopher Bowlby together founded the Chopin Academy of Music in Issaquah, Washington in 2005, where they develop and oversee the talent of over 250 high-achieving students in conjunction with an international team of artist-teachers. Their students have garnered top prizes at local, national, and international competitions. The Kaminska/Bowlby team are also the executive directors of the Seattle International Piano Festival and Competition, one of the most inclusive competitions of the piano world today, as cited in a Wall Street Journal article from 2010. The SIPC is held every two years, and has awarded gifted emerging artists from around the globe, many who have continued into celebrated careers as performers.