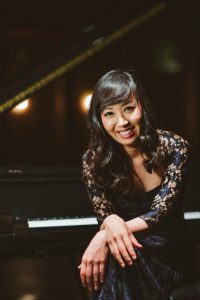 Lauded for her artistry, musical intelligence and expressive intensity, celebrated Australian pianist VIVIAN CHOI has captivated audiences around the world with gripping performances. Acclaimed by Fanfare as "an exemplar of the modern global pianist", Vivian Choi is in demand for her depth of musical insight of a diverse range of repertoire, from classical to contemporary works, presented in thoughtful and imaginative programs.
Since her debut performance at the Mostly Mozart Festival at the Sydney Opera House, Vivian Choi has toured extensively throughout Australia, New Zealand, Europe, North America and Asia. The recipient of several prestigious honours, Ms. Choi was awarded the Australian Guild of Music and Speech Award for Outstanding Achievement and the Australian Council of Arts Project Grant. For her contribution to the arts, she was awarded the title 2003 Achiever of the Year by the Australian-Korean Cultural Council, and honoured with the Dame Joan Sutherland Award from the American Australian Association.
Vivian Choi made her concerto debut as the winner of the New South Wales Secondary Schools Concerto Competition in Australia, launching her career as a concerto soloist that has taken her around the globe. Highlights of Ms. Choi's recent concerto appearances include the world premiere of Kate Moore's Piano Concerto Beatrice in Australia and the US premiere of Huang Ruo's Piano Concerto with the Boston Modern Orchestra Project. Her recital debut occurred at the Sydney Opera House, a performance that was broadcast nationally. In recent seasons she has appeared as a recitalist at the Glazunov Hall, Rimski-Korsakov Museum and Anna Akhmatova Museum in Russia; in the November Music Festival, Groningen Sounds of Music Festival and De Link Tilburg in the Netherlands; the Lido di Venezia Festival in Italy; and at the Bozeman Symphony Series, Stony Brook International Piano Festival, Monadnock Music Festival, Nantucket Music Festival and Saint Vincent Concert Series in the US. Her recital tours have included New Zealand, The People's Republic of China, as well as Slovenia and Croatia as part of the Imago Sloveniae Festival. An avid chamber musician, she has performed with the Boston Symphony Chamber Players at Tanglewood Festival, the Rockport Chamber Music Festival and Martha's Vineyard Chamber Music Society in the US, the Muziekgebouw and the Korzo in the Netherlands. She is a resident pianist with the Chameleon Arts Ensemble of Boston and a member of Herz Ensemble Amsterdam.
Born in Seoul, Korea, Vivian Choi grew up in Sydney, Australia, where she received her earliest musical education. She continued her training at Russia's Saint Petersburg State Conservatory, graduating summa cum laude, and holds graduate degrees from the New England Conservatory and Carnegie Mellon University. Her principal teachers include Kyunghee Lee, Mira Yevtich, Alexander Sandler, Wha Kyung Byun, and Sergey Schepkin.
Vivian Choi received her initial international recognition at the age of thirteen when she won, as the youngest contestant, Second Prize (Due Pianoforti) from the IX Concorso Pianistico Internazionale "Città di Marsala." Since then she has won top prizes in international competitions in Italy, the Netherlands, Bulgaria and Russia, including the First Prize from the Marina Yudina International Piano Competition.
Vivian Choi's debut album comprising works of Rachmaninoff, Prokofiev and Godowsky was released on the Northern Flowers label in 2010 to critical acclaim, and has been frequently broadcast on WQXR, WWFM and WQED. Future releases include two CDs with the Grammy Award-winning Boston Modern Orchestra Project – Harold Shapero's Partita in C for Piano and Orchestra and Gail Kubik's Symphony Concertante for Trumpet, Viola, Piano and Orchestra.
In addition to performance activities, Vivian Choi has served as a juror for numerous piano competitions and conducted masterclasses worldwide for institutions that include Boston University, Carnegie Mellon University, Rollins College, Italy's Academia Filarmonica di Camposampiero and Australian International Conservatorium in Sydney.
Vivian Choi makes her home in New York City.