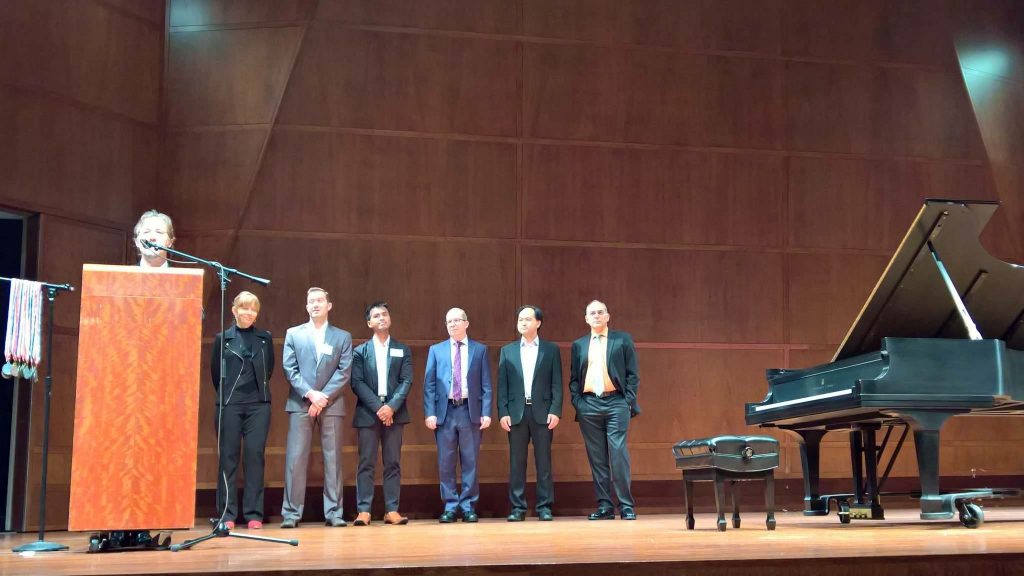 The 2017 Seattle International Piano Competition was an unforgettable weekend of phenomenal playing. The directors and organizers of the SIPF were honored to have met the many wonderful participants that made this event one to cherish. This year's judges remarked on the incredible quality of the musicians and look forward to hearing these exceptional artists again in the near future.
Tonight, Monday, October 2 at 7:30, hear the gold medalists from each of the fully competitive categories in the Norcliffe Founders' Room at Benaroya Hall. Admission: $20 at the door.
The SIPF thanks the countless people who have made this event possible. In the coming days, look for complete results, including a list of finalists, semi-finalists, and their teachers. The SIPF congratulates each participant for the tremendous devotion and commitment they have demonstrated.
The SIPF Thanks
Maxwell Adkisson, Sabrina Beidler, Carolyn Bone, Charles and Judy Bowlby, Christopher Bowlby, Esenih and Nile Camai and Yingzi Le, Yunbo Cassady, Larine Chung, Teresa Indelak Davis, Ming and Alan Fan and Ying Lu, Heather Howland and family, Caroline and James Farrell, Aaron Gorseth, Eric Juvet and Lloyanne Wallien, Hisae Kageyama, Ivona Kaminska, Sweney Kuo and family, Ms Lim Ai Lin and Clement, May and Wah Lui, John Meng and Shichu Liu and family, York Sun and Pamela Qiu, Ross Salvosa, Alexandra Tsirkel, Edmond Wong and Kathy Lu and family, Vincent C.H. Yao
The Polish Consulate
Our thanks to the Benaroya staff
2017 Sponsors:
Classic Pianos of Bellevue
Chopin Academy of Music
Expedia Corporation
2017 Judges:
Logan Skelton, Alexander Tutunov, Francis Yang
2017 Seattle International Piano Competition Results
Youth, Ages 9 and under
Gold medalists: Emmie Guo, Meagan XinYan Lee, Ian Park
Audience Favorite Award: Meagan XinYan Lee
Teachers' Favorite Award: Ian Park
Outstanding Amateurs
Gold medalists: Stephen Bertges, John Gutheil, Tomáš Hostýnek, Yong Pan, Stewart Uyeda, Laiza Marie Williamson
Best Performance of a Prelude by F. Mompou: Stewart Uyeda
Best Performance of an Etude by F. Chopin: Yong Pan
Audience Favorite Award: Yong Pan
Teachers' Favorite Award: Stephen Bertges
Youth, Ages 10 to 13
Gold medalist: Lin Kai Zhang
Silver medalist: David Neese
Bronze medalist: Aliya Marie Alsafa
Best Performance of an Etude by F. Chopin: Aliya Marie Alsafa
Audience Favorite Award: Richard Sheng
Teachers' Favorite Award: Aliya Marie Alsafa / Richard Sheng (split)
Youth, Ages 14 to 18
Gold medalist: Samuel Gliklich
Silver medalist: Robert Yan
Bronze medalist: Hansub Kim
Best Performance of an Etude by F. Chopin: Adrian King
Best Performance of a Prelude by F. Mompou: Robert Yan
Audience Favorite Award: Robert Yan
Teachers' Favorite Award: Samuel Gliklich
Collegiate
Gold medalist: Artem Kuznetsov
Silver medalist: Andrei Andreev
Bronze medalist: Vincent Ip
Audience Favorite Award: Artem Kuznetsov
Teachers' Favorite Award: Andrei Andreev
Professional
Gold medalist: Ji Hyang Gwak
Silver medalist: HwaYoung An
Bronze medalist: Hsiujung Hou
Best Performance of an Etude by F. Chopin: HwaYoung An
Best Performance of a Sonata by D. Scarlatti: Hsiujung Hou
Audience Favorite Award: HwaYoung An
Teachers' Favorite Award: HwaYoung An / Ji Hyang Gwak (split)