Master Teachers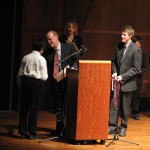 The SIPF congratulates those master teachers who, repeatedly, have finalists and winners in the Seattle International Piano Competition. Getting past the grueling preliminary round takes dedication, persistence, artistry, and of course incredible devotion and guidance from a gifted teacher. Listed below, by location, are the names of master teachers who have had finalists and winners in the Seattle Int'l Piano Competition since 2008.
If you are one of the teachers listed, feel free to email to the SIPF with a link to your professional profile, submit your bio and headshot for us to create a permanent profile linked here to this page, or update any outdated information hereto. Write to: info@seattlepianocompetition.org with the subject heading "Master Teacher Profile Update". Please allow 30 days for the SIPF organizers to respond.
China
Czech Republic
Germany
Hong Kong
New Zealand
Russia
South Korea
Spain
Thailand
United Kingdom
USA
Arizona
California
Colorado
Connecticut
Georgia
Idaho
Illinois
Indiana
Iowa
Maryland
Massachusetts
Michigan
Minnesota
Missouri
New Jersey
New York
North Carolina
Ohio
Oregon
Pennsylvania
Tennessee
Texas
Utah
Washington
Washington D.C.
Wisconsin
Australia
Canada
Alberta
British Columbia
Lorraine Ambrose
Kenneth Broadway
Amanda Chan
Katherine Chi
Jane Coop
Corey Hamm
Sun Sung Kong
Alda Lee
Ralph Markham
Ronald Morgan
Gregg Pauley
Henri-Paul Sicsic
Lee Kum Sing
Li Xiao
Ontario
China
Weiling Chen
Zhang Jin
Qi Li
Hongbo Quan
Zhang Quming
Czech Republic
Germany
Christopher Oakden
Matti Raekallio
Markus Tomas
Hong Kong
New Zealand
Russia
Natalia Dolenko
Elena Kuznetsova
South Korea
Bok Hee Chang
Jeong In Park
Spain
Thailand
Pornphan Banternghansa
Christopher Janwong McKiggan
Irina Novikova
United Kingdom
United States of America
Arizona
Robert Hamilton
Baruch Meir
Alexander Tentser
Jelena Vladikovic
California
Kelly Anderson
Bernadene Blaha
Hans Boepple
Linda Carver
Sung Chang
Gwhyneth Chen
Karen Joy Davis
Sofi Dediashvili
Rina Dokshitsky
Ethan Yi Dong
Ana Maria Eckstein
Akiko Gaffney
Tien Hsieh
Jeffrey Kahane
Elena Makarova
Peyhwan Kuan
Myong-joo Lee
Sonia Leong
John McCarthy
Mack McCray
Yoshikazu Nagai
Linda Nakagawa
Jon Nakamatsu
Nobuyo Nishizaka
Youngsook Park
Antoinette Perry
Michelle Jo Santoso
Anna Semyanovsky
Sandra Wright Shen
Ory Shihor
Jenny Shin
Frederick Weldy
William Wellborn
Pamela Worcester
Ariel Yang
Temirzhan Yerzhanov
Colorado
Connecticut
Georgia
Joe Chapman
David Watkins
Idaho
Illinois
Svetlana Belsky
Timothy Ehlen
William Heiles
Ian Hobson
Brenda Huang
Susan Merdinger
Sueanne Metz
Indiana
Arnaldo Cohen
Roberto Plano
Menahem Pressler
Karen Shaw
Alexander Toradze
Iowa
Maryland
Leon Fleisher
Marian Hahn
Alexander Shtarkman
Mayron Tsong
Massachusetts
Alexander Korsantia
Max Levinson
Yong Hi Moon
Pavel Nersessian
Nilly Shilo
Boris Slutsky
Minnesota
Michigan
Arthur Greene
Christopher Harding
Logan Skelton
Missouri
New Jersey
New York
Natalya Antonova
Sergei Babayan
Hung-Kuan Chen
Alan Chow
Jeffrey Cohen
Jeremy Denk
Zenon Fishbein (deceased)
Douglas Humpherys
Joseph Kalichstein
Yohaved Kaplinsky
Alexander Kobrin
Soyeon Kate Lee
Seymour Lipkin
Marina Lomazov
Jerome Lowenthal
Julian Martin
Robert McDonald
Ursula Oppens
Rebecca Penneys
Joseph Rackers
André-Michel Schub
Thomas Schumacher
Marc Silverman
Ju-Ying Song
Elier Suarez
Nelita True
Assaff Weisman
North Carolina
Ohio
Antonio Pompa-Baldi
Awadagin Pratt
Angela Cheng
Tony Cho
Eugene Pridonoff
André Watts
Oregon
Linda Barker
Susan Chan
Alexandre Dossin
Julia Hwakyu Lee
Alexander Tutunov
Pennsylvania
Danna Amato
Annie Petit
Ignat Solzhenitsyn
Susan Starr
Tennessee
Texas
Joaquín Achúcarro
David Karp
Anton Nel
Jon Kimura Parker
Pamela Mia Paul
Andrey Ponochevny
Robert Roux
Gabriel Sanchez
Konstantyn Travinskyy
Tamás Ungár
Vladimir Viardo
John Weems
Utah
Gary Amano
Susan Duehlmeier
Jie Lu
Ning Lu
Eugene Watanabe
Vera Watanabe
Yu-Jane Yang
Washington
Judy Baker
Christopher Bowlby
Irene Bowling
Karlyn Brett
Oksana Ezhokina
Duane Hulbert
Robert Jorgenson
Ivona Kaminska
Ni Liu
Peter Mack
Robin McCabe
Anaida Nagdyan
William Chapman Nyaho
Carol Rich
Leonard Richter
Mark Salman
Craig Sheppard
Sasha Starcevich
Robert Swan
Washington D.C.
Wisconsin