2023 Classical Viennese Festival Results
2023 Classical Viennese Festival Adjudicators:
As a reminder, all results are final and unappealable. We thank you for your participation, and we are grateful for the expertise and energy of our jurors, Junheng Chen, Nellie Cronin, Gabriel Merrill-Steskal, Maria Manzano, Minji Noh, and Alina Rosevear — all of whom greatly enjoyed hearing your submissions. Further instructions and medal distribution will be published in the coming days. Comment sheets have already been distributed via email. Note that some participants who did not receive a prize are not listed below, but will receive participation certificates.
All participants are to be congratulated on your dedication and hard work! Congratulations to the performers, families, and many talented instructors that made this event possible. Browse below and find the video performances of the many distinguished gold medalists.
New this year, the SIPF is excited to extend a discount of $300 off tuition for the first Amici International Music Festival in Malibu, California (pending a successful audition) to all gold medalists.
Congratulations to all participants. Scroll below to the winners' list.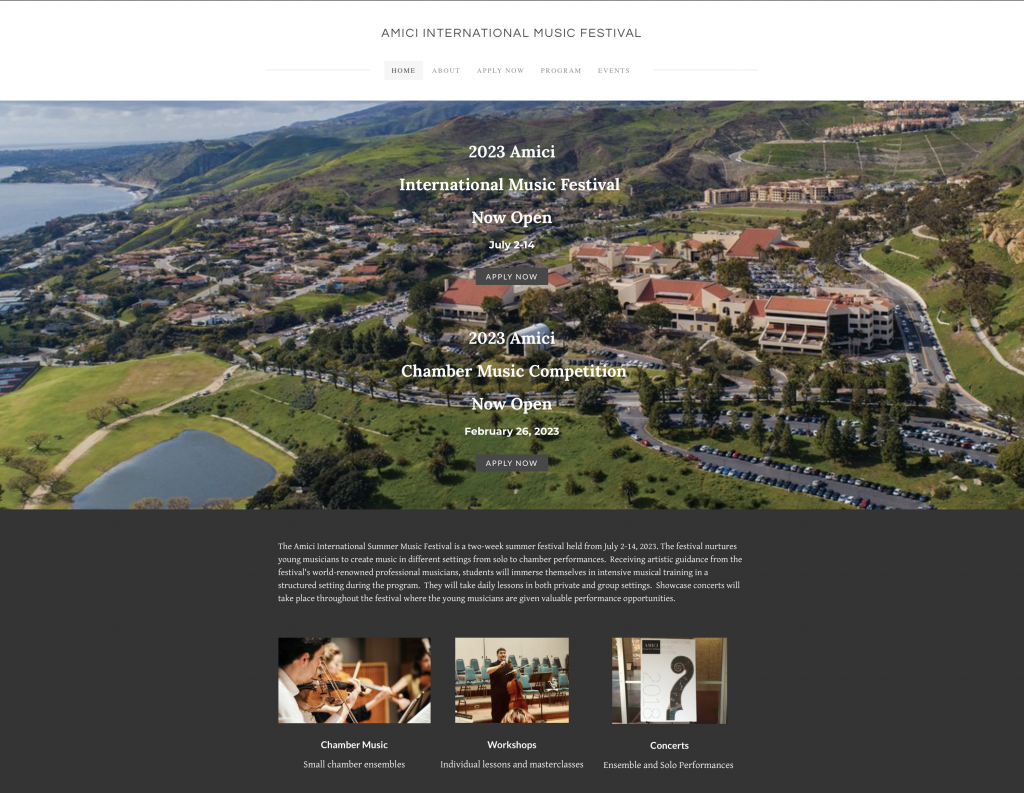 Ages 7 and under, non-competitive Gold Star Performers
Malavi Arvind, Sophie Cai, Haolin Chen, Jaimee Dong, Loui Gjonej, Adorace Liu, Brady Liu, Celine Liu, Louis Liu, Elena Nien, Watson She, Lena Shea, Chloe Tai, Peter Tang, Annabelle Wang, April Wang, Elliott Wei, Jayden Wu, Shanhu Yang, Eric Zhan, Caroline Zhang, Shuwei Zhang, Valerie Zhao, Wes Zhou
Piano Division
Age 5
– Sonatinas
Gold Medalist(s): Hallie Lyu
Age 6
– Classical Variations
Gold Medalist(s): Rosie Chen
– Sonatas by W.A. Mozart
Gold Medalist(2): Athena Li
– Sonatinas
Distinguished Gold Medalist(s): Isabella Nakazato
Gold Medalist(s): Orson Lin, Jacqueline Shih
Silver Medalist(s): Elsie Lin, Olivia Lu, Bryan Xia, Frida Zhang, Ruby Zhao
Bronze Medalist(s): Preston Chao, Summer Guo, Zachary Zhao
Honorable Mention(s): Cheryl Zhang
Age 7
– Miscellaneous Works
Gold Medalist(s): Jason Fang
Silver Medalist(s): Ryan Fang, Miranda Zhu
– Sonatas by W.A. Mozart
Distinguished Gold Medalist(s): Adorace Liu
– Sonatinas
Gold Medalist(s): Celine Huang, Yuchen Zhou
Silver Medalist(s): Odin Cihaner, Gijun Lee, Andy Liu, Davis Liu, Lily Liu
Bronze Medalist(s): Elliott Johnson, Yenay Luo
Age 8
– Classical Variations
Gold Medalist(s): Raymond Zhou
– Miscellaneous Works
Gold Medalist(s): Rocky Chao, Victoria Wang
Silver Medalist(s): Nicolina Westerman
– Pre-Classic Sonatas
Bronze Medalist(s): Mia Zhou
– Sonatas by F.J. Haydn
Gold Medalist(s): Liam Sun
– Sonatas by L.v. Beethoven
Gold Medalist(s): Caleb Casper
– Sonatas by W.A. Mozart
Gold Medalist(s): Aiden Choy
Honorable Mention(s): Grace Huang
– Sonatinas
Gold Medalist(s): Finley Cai, Abby Chao, Aimee He, Lucas Jin, Farrah Lee, Amy Li, Anna Li, Anya Liu, Gillian Liu, Vivian Miao, May Xu, Daniel Zhao
Silver Medalist(s): Rocky Chao, Rachel Chow, Heidi Li, Brian Liang, Grace Lin, Mya Wang, Evelyn Xu
Bronze Medalist(s): Chloe Gao, Gilbert Liu, Shanna Wu, Adam Xu, Lydia Zhang, Daniel Zhou
Honorable Mention(s): Jinfan Li, Maia Li, Mia Shi
Age 9
– Miscellaneous Works
Gold Medalist(s): Olivia Lee
Silver Medalist(s): Zachary Chen
– Pre-Classic Sonatas
Silver Medalist(s): Alice Xiong
Bronze Medalist(s): Sasha Fedorov
– Sonatas by F.J. Haydn
Gold Medalist(s): Olivia Nakazato
Silver Medalist(s): Yilan Jin
Bronze Medalist(s): Lillian Mergler, Lyle Prajogi
– Sonatas by L.v. Beethoven
Gold Medalist(s): Yunuo Liu
Silver Medalist(s): Jason Gao
Bronze Medalist(s): Milo Johnston, David Samuel
– Sonatas by Other Composers
Gold Medalist(s): Scarlett Lo
– Sonatas by W.A. Mozart
Gold Medalist(s): Jasper Wu, Lucas Zheng
Honorable Mention(s): Claire Wu
– Sonatinas
Distinguished Gold Medalist(s): Amelia Du, Alexander Wang
Gold Medalist(s): Yiten Kueh, Arie Zhang
Silver Medalist(s): Nora Mo, Alexis Ni, Angela Song, Erin Wu, Allen Yang, Sienna Zhang, Alex Zhu
Bronze Medalist(s): Sinne Collin, Sasha Fedorov, Mila Kuo, Natalie Noonan
Honorable Mention(s): Adalyn Caldwell, Kira Falk, Rishabh Hoskeri, Wenpei Jia, Dylan Kim, Estella Nguyen, Angela Tang, Leonart Wang, Mike Zhao
Age 10
– Keyboard Concerti
Gold Medalist(s): Lingxi Chen
– Miscellaneous Works
Gold Medalist(s): Harry Zhang, Ryan Zhu
Silver Medalist(s): Christopher Wang
Bronze Medalist(s): Bella Cui, Aaron Marin
– Pre-Classic Sonatas
Gold Medalist(s): Vivien Lai
Silver Medalist(s): Catherine Tang
Bronze Medalist(s): Miranda Ren
– Sonatas by F.J. Haydn
Distinguished Gold Medalist(s): Erik Byurkland
Silver Medalist(s): Jessica Wang
– Sonatas by L.v. Beethoven
Distinguished Gold Medalist(s): William Feng
Gold Medalist(s): Eric Cisyk, Michael Wan
Silver Medalist(s): Alex Li
Bronze Medalist(s): Grace Kaiboriboon
– Sonatas by W.A. Mozart
Gold Medalist(s): Charlotte Hayes, Andrew Sun-Zhuang, Jessica Xie
Silver Medalist(s): Levin Zhang
Bronze Medalist(s): Lucas Corcoro, Jiayi Guo
– Sonatinas
Distinguished Gold Medalist(s): Ian Fung
Gold Medalist(s): Mingxiang Gu, Jayden Hor, Aubrey Liang, Hannah Yao
Silver Medalist(s): Neil Deng, Anthony Kim, Bodhi Klinke, Anya Parson, Taylor Wu
Bronze Medalist(s): Alex Jing
Honorable Mention(s): Alyssa Ly
Age 11
– Keyboard Concerti
Bronze Medalist(s): Caiden Kim
– Pre-Classic Sonatas
Silver Medalist(s): Jamie Yao
– Sonatas by F.J. Haydn
Gold Medalist(s): Jayden Guo, Kirk Kang, Kyle Liao, Yuexi Lu
Silver Medalist(s): Jacqueline Cao
Bronze Medalist(s): Abigail Chow
– Sonatas by L.v. Beethoven
Gold Medalist(s): Carolyn Yang
Silver Medalist(s): Aaron Jin, Isla Oh
– Sonatas by Other Composers
Gold Medalist(s): Helene Chen, Antara Jagadish
Silver Medalist(s): Marcus Lo
– Sonatas by the Sons of Bach
Gold Medalist(s): Yunfei (Joanna) Huang
– Sonatas by W.A. Mozart
Gold Medalist(s): Katelyn Denq, Lenka Dzunic
Silver Medalist(s): Simon Zhu
Bronze Medalist(s): Yixiao Xu
– Sonatinas
Gold Medalist(s): Lily Chen, Niya Fu, Andrew Liang
Silver Medalist(s): Naomi Baumann, Diya Karthik, Alice Le, Olivia Liang
Bronze Medalist(s): Arjun Bhate, Aaron Chen, Raymond Guo, Fitzhugh McCullough, Lucas Omdal
Age 12
– Miscellaneous Works
Gold Medalist(s): Kylie Zhang
Bronze Medalist(s): Samayra Lal
Honorable Mention(s): John Ngo
– Pre-Classic Sonatas
Gold Medalist(s): Anna Fitzgerald
Silver Medalist(s): Anna Barnes
– Sonatas by F.J. Haydn
Gold Medalist(s): William Hsieh, Luke Yuan
Silver Medalist(s): Lucas Lee, Chloe Mergler, Bibianna Yu, Victor Zhao
– Sonatas by L.v. Beethoven
Distinguished Gold Medalist(s): Ziwen Gong
Gold Medalist(s): Elena Fan, Tiankai Wang, Arianne Zhang
Bronze Medalist(s): Noah Casper, Amour Luo
– Sonatas by Sons of Bach
Gold Medalist(s): Andrew Zhang
Silver Medalist(s): Julia Tamola
– Sonatinas
Gold Medalist(s): Jeana Jang, Zihan (Joyce) Xu
Silver Medalist(s): Eric Lou, Lucas Ma
Bronze Medalist(s): Aaratrika Paul, Frances Shen
Honorable Mention(s): Terranc Li
Age 13
– Classical Variations
Silver Medalist(s): Claire Xu
– Keyboard Concerti
Gold Medalist(s): Caileen Wan
– Miscellaneous Works
Silver Medalist(s): Vishwa Ravichandhiran
– Sonatas by F. Schubert
Gold Medalist(s): Skyla Chon
– Sonatas by F.J. Haydn
Gold Medalist(s): Alicia Feng
Silver Medalist(s): Sizhe Zheng
Bronze Medalist(s): Vika Aleynikov, Toprak Celikel Celikel, Rishi Niranjan, Kevin Song
Honorable Mention(s):
– Sonatas by L.v. Beethoven
Gold Medalist(s): Emma Huang
Silver Medalist(s): Pranav Karthik
Bronze Medalist(s): Ashley Chen
– Sonatas by Other Composers
Gold Medalist(s): Jacob Cai
– Sonatas by W.A. Mozart
Distinguished Gold Medalist(s): Ever Sun, Alexander Vollmer
Bronze Medalist(s): Lucas Ho, Seungmin Ka, Alexis Liu
Honorable Mention(s): Cheng Xing
– Sonatinas
Gold Medalist(s): Adam Tsai
Honorable Mention(s): Jingxi Du, Abhinav Nandakishor
Age 14
– Pre-Classic Sonatas
Silver Medalist(s): Emily Shang
Honorable Mention(s): Sophia Zhu
– Sonatas by F.J. Haydn
Silver Medalist(s): Yeriel Kim
– Sonatas by L.v. Beethoven
Gold Medalist(s): Ankita Datta
Silver Medalist(s): Aadarsh Rao
Bronze Medalist(s): Yohaan Ardeni, Frank Ouyang, Anika Samuel
– Sonatas by Other Composers
Gold Medalist(s): Justin Chen
Silver Medalist(s): Abhinav Iyer
– Sonatas by W.A. Mozart
Gold Medalist(s): Kaia Sullivan
Silver Medalist(s): Albert Li
– Sonatinas
Silver Medalist(s): Cailin Surtihadi
Age 15
– Classical Variations
Gold Medalist(s): Symphony Tafreshi
– Keyboard Concerti
Silver Medalist(s): Kaitlyn Gia Lee
– Miscellaneous Works
Silver Medalist(s): Azle Norsworthy
Bronze Medalist(s): Esther Sun
Honorable Mention(s): Nella Smathers
– Pre-Classic Sonatas
Gold Medalist(s): Audrey Yang
– Sonatas by F.J. Haydn
Silver Medalist(s): Alexandra Millman
Bronze Medalist(s): Elaina Mergler
– Sonatas by L.v. Beethoven
Distinguished Gold Medalist(s): Sherry Fei
Gold Medalist(s): Yuma Kano, Aidan Zhang, Jeffrey Zhao
Silver Medalist(s): Max Fu, Madelyn Kraemer
Bronze Medalist(s): Sean Fedorov
Honorable Mention(s): Benjamin Hu, Craig Lee, Andrea Li
– Sonatas by W.A. Mozart
Gold Medalist(s): Alexander Du, Jason Nam
Silver Medalist(s): Nathan Lee, Yuanrui Zhao
– Sonatinas
Silver Medalist(s): Rachael Ing
Honorable Mention(s): Cedric Denuit
Age 16
– Miscellaneous Works
Honorable Mention(s): Andrea Han
– Pre-Classic Sonatas
Gold Medalist(s): Ava Zhang
Silver Medalist(s): Haifeng Lin
– Sonatas by F.J. Haydn
Gold Medalist(s): William Martin
– Sonatas by L.v. Beethoven
Distinguished Gold Medalist(s): Lero Wang, Ryan Wang
Gold Medalist(s): Noah Maeda
Silver Medalist(s): Paloma Oh
Age 17
– Sonatas by F.J. Haydn
Gold Medalist(s): Logan Chu
Bronze Medalist(s): Andrew Chen
– Sonatas by L.v. Beethoven
Distinguished Gold Medalist(s): Evan Mao
Gold Medalist(s): Stefan Chita
– Sonatas by W.A. Mozart
Distinguished Gold Medalist(s): Andy Chen
– Sonatas by F. Schubert
Gold Medalist(s): Funing Yang
Adult, Age 19+
– Sonatinas
Bronze Medalist(s): Stanley Yao
– Sonatas by W.A. Mozart
Gold Medalist(s): Wendy Wang
Silver Medalist(s): Chun-Wei Chang
Bronze Medalist(s): Frances Li
Professional
– Sonatas by L.v. Beethoven
Distinguished Gold Medalist(s): Yifu Peng
Instrumental Division
Age 7
– Miscellaneous Works
Gold Medalist(s): Vincent Yue
Age 8
– Miscellaneous Works
Gold Medalist(s): Chloe Liu
Age 12
– Instrumental Concerti
Gold Medalist(s): Sara Kim
– Sonatas by Classical Composers
Gold Medalist(s): Nathaniel Chung
Silver Medalist(s): Kiana Lee
Age 13
– Sonatas by Classical Composers
Silver Medalist(s): Chanseop Yoon
Age 14
– Instrumental Concerti
Gold Medalist(s): Karis Lee
Age 15
– Instrumental Concerti
Gold Medalist(s): Jin Hyun, Lauren Lee
Silver Medalist(s): Emily Zhang
Age 16
– Instrumental Concerti
Gold Medalist(s): Lucia Bury