2019 Seattle International Piano Competition and Festival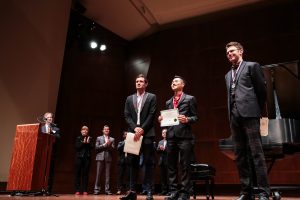 Saturday, October 12 — Monday, October 14
Come enjoy three afternoons of outstanding piano performance from across the globe at Seattle's own Benaroya Hall!
The bi-annual Seattle International Piano Festival and Competition invites Seattleites and guest attendees to be inspired by local and international pianists as well as their talents and diverse musical backgrounds.
Saturday, Oct 12
Winners of the Youth (ages 9 and under), Outstanding Amateurs, and top-ranked Professional semi-finalist.
12:00 – 3:15 PM (N)
Admission: $35 General / $25 Seniors / $15 Students
(Artists are decorated immediately following the performance)
Seattle International Piano Competition Finalists: Youth, ages 10 to 18
4:15 – 7:15 PM (N)*
– 4:15 to 5:20 PM – Youth, Ages 10 to 13
– 5:40 to 7:15 PM – Youth, Ages 14 to 18
Admission: $35 General / $25 Seniors / $15 Students
(awards are announced at the 8 PM guest artist and awards ceremony on Sunday evening, October 13)
Sunday, Oct 13
Seattle International Piano Competition Finalists: Collegiate and Professional Artists
1:30 – 6:25 PM (N)*
– 1:30 to 3:30 PM – Collegiate Artists
– 3:50 to 6:25 PM – Professional Artists
Admission: $35 General / $25 Seniors / $15 Students
(awards are announced at the 8 PM guest artist and awards ceremony on Sunday evening, October 13)
President's Prizewinner Visiting Artist, Hsiu-Jung Hou in Concert, plus Decoration of 2019 Laureates
8:00 – 9:30 PM (N)
Admission: Free
Monday, Oct 14
Master Classes with Jurors and Guests of the 2019 SIPF, Featuring the Competitive Talent
1:30 to 5:30 PM (F)
Admission: $10 at the door
2019 Competition Gold Medalists in Concert
Hear gold medalists again in recital from each of the fully competitive divisions (Youth 10-18, Collegiate, and Professional)
6:30 to 8:00 PM (F)
Admission: $20 at the door
* – attendees may cast votes for the Audience and Teachers' Favorite Award
(N) – Illsely Ball Nordstrom Recital Hall at Benaroya Hall
(F) – Norcliffe Founders' Room at Benaroya Hall (enter via Performers' Entrance off 2nd Ave)
Tickets available through the box office or seattlesymphony.org/benaroyahall
Location
Benaroya Hall
200 University Street
Seattle, WA 98101
Illsley Ball Nordstrom Recital Hall entry through box office at corner of Union & 3rd
Norcliffe Founder's Room entry through Artist's Entrance off of 2nd