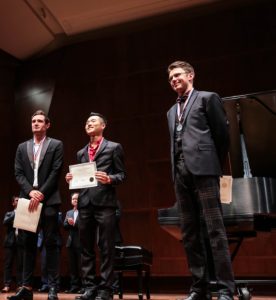 The SIPF is proud to announce the 2022 Seattle International Piano Competition for pianists of all ages and nationalities. A new format allows for easy participation anywhere in the world. Over $17,000 in cash prizes plus additional distinctions and engagements.
2022 Seattle International Piano Competition
Singled out in 2010 by the Wall Street Journal as one of the world's most inclusive competitions, the SIPC continues to provide one of the most equitable opportunities for artistic recognition in the world. A TWO-ROUND COMPETITION, participants are invited to submit recordings in this new hybrid online format. Up to eight finalists in each category are selected to appear in a streaming live event before a blind jury. Upon preliminary round completion, select participants will be instructed how to submit a final round recorded video program.
Since 2013, the SIPC is now one of the world's only piano competitions exclusively conducted by blind jury.
"[Aspiring performers] can become distracted by superficiality over substance, especially as they see the attention paid to all sorts of things besides the quality of their music making. It is so much better and healthier for young musicians to seek to create something of enduring value that truly warrants attention. In this larger context, the Seattle competition stands as a beacon of fairness and goodness."

— Dr. Logan Skelton
Deadlines and New Format
Preliminary Application Deadline — May 15, 2022
Final Round Submission Deadline — September 20, 2022
Final Live Streaming Round — October 8-9, 2022
The Seattle International Piano Competition is comprised of pre-recorded video submissions, free of programming requirements within a time limit (see seattlepianocompetition.org/competition/rules for more detail). After the final candidates have been selected and notified, participants must submit a final round program in the form of a single pre-recorded continuous video by September 20. Further details regarding the final round recording format will be published upon finalist status notification, and includes a required short work (professional and collegiate artists only) and an authentication process. Final round video submissions will be published in random order during a live streaming event before a blind jury.
[Note that Outstanding Amateurs and Youth, Ages 9 and Under categories are judged solely on the merits of their first round recordings. Their videos will be published along with the finalists during the October 8-9 streaming event.]
Categories and Prizes
Professional Artists — gold ($4,000), silver ($2,500), bronze ($1,500)
Collegiate Artists — gold ($3,000), silver ($2,000), bronze ($1,000)
Outstanding Amateur — up to 8 unranked gold medalists
Youth, Ages 14 to 18 — gold ($500), silver ($350), bronze ($250)
Youth, Ages 10 to 13 — gold ($400), silver ($250), bronze ($100)
Youth, ages 9 and under — up to 8 unranked gold medalists
President's Artist Prize and $750 will be offered to the best performance of a work by Brahms or Schumann in the Collegiate or Professional artists category, awarded by Dr. Ivona Kaminska/Dr. Alexander Tutunov (includes potential future professional engagements)
James Miles Memorial Prize and $750 will be offered to the best performance of a work by Chopin in the Collegiate or Professional artists category, awarded by Dr. Christopher Bowlby (includes potential future professional engagements)
Plus other non-cash prizes
For More Information