2018 Bach Festival
Note: the date for the 2019 Bach Festival has been set. The event will be held all day, Sunday, September 29 at Forest Ridge, with an application deadline of Saturday, September 14. Check back shortly for revised and updated rules and application.
The Seattle International Piano Festival (SIPF) is proud to present for the ninth year the Bach Festival for pianists and violinists of any nationality, featuring works by Johann Sebastian Bach, as well as other Baroque masters. This competitive event was created to provide performing opportunities for those who wish to share their love of Bach's revered music and to provide performers with constructive feedback from performing and teaching masters. Participants will receive educational evaluations by performing for adjudicators, and a chance to receive medals and certificates.
We are honored to continue the tradition of the annual Bach Festival by it's original founder, Jennifer Bowman, and hope to preserve her artistic vision. The festival has always been a wonderful educational and artistic opportunity for pianists and violinists in Washington and Oregon, and our mission is to see that it becomes an anticipated event each year.
Once submitted, the participant will receive a confirmation email including the information submitted on this form. Please check your bulk mail folder in the email account you specified in the form if you do not Immediatey see the confirmation.
Shortly after Monday, October 8, participants may view the itinerary page for performance time and venue assignments as well as other important information.
This festival sets forth narrowly defined age groups and specific genre groups so that participants may be fairly judged, and generously decorated. Those familiar with previous years should note that there are no major changes from last year's Bach Festival.
Addendum
August 26: Violinists participating in Group O may now select the Chaconne from the Partita in D minor, BWV 1004 without additional accompanying movements.
Registration
The form is now online, accepting credit cards for application fees and online signatures. The form is available here: application form
2018 Bach Festival General Rules and Application

Application Deadline: All applications must be completed by 11:59 pm, Thursday, October 4. Click on the icon to the left to download a copy of the rules. Participants will be notified of their performance slot on October 21 shortly after Monday, October 8 via announcement on this page. Please do not inquire about time slots before October 9. Application Form
2018 Bach Festival Adjudicators:
Jennifer Cruz – Solo and collaborative pianist Jennifer Cruz is an Assistant Professor in Piano for the Collinsworth School of Music at the California Baptist University where she oversees both the Keyboard and Collaborative piano departments. In addition to her administrative duties, she maintains a full teaching load every semester. Since being appointed the full-time position in 2016, Jennifer was recognized for her overall faculty… read more…
Dr David Hyun-su Kim – Holding degrees from Harvard, Yale, and Cornell Universities, and a doctorate from the New England Conservatory of Music in Boston, Dr. Kim has performed internationally, with past appearances throughout the United States, Canada, Austria, Germany, Italy, Belgium, the United Kingdom, South Korea, and Australia. His concerts have been praised as "emotionally expansive" and "idiomatically perfect,"… read more…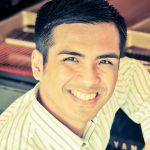 Dr Ross Salvosa – Dr. Salvosa is renowned as a pianist-pedagogue and has been performing in concert venues around the world as an orchestra soloist, solo recitalist, collaborative artist, chamber musician and as a conductor. Ross has conducted lectures and masterclasses on piano pedagogy, and has been an adjudicator for festivals and competitions in Canada, USA, Chile, Argentina, Brazil, and the Philippines. Ross first captured the public's… read more…