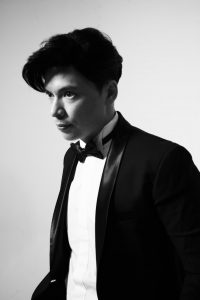 Dr. Christopher Janwong McKiggan's playing has been called as "masterful, highly contrasted and sharply characterized" (Gramophone), and he has been hailed as having "astounding technique… startling poise and control" (Kansas City Star), "astonishing virtuosity and piano coloration" (The Citizen), being "commanding" (Limelight), "outstanding" (Bangkok Post) and "proving to be colossus, converting every piece into a virtuoso composition" (The Manila Times). McKiggan won a top prize as laureate at the prestigious 12th UNISA International Piano Competition (WFIMC) and won numerous other awards, including the Gold Medal in the Seattle International Piano Competition, second prize in the Isabel Scionti International Music Competition, First Prize in the Bradshaw and Buono International Piano Competition, and awards in other national and international competitions. He was awarded the "Presser Award" for his international relations project, which will be released as a solo album under Sheva Records in June 2022.
His appearance on 2015 recording of Augusta Read Thomas's viola-piano duet Cantos for Slava (Augusta Read Thomas: Music for Strings, Nimbus Records, engineered by multiple Grammy-winner Christopher Willis), was hailed as "virtuosi[c] and skilled[ed]" (Gramophone). His solo album, Paganimania, (Albany Records, 2015) was mixed and mastered by Grammy-Nominated sound engineer Ken Gorres. In its review of Paganimania, Fanfare, called Christopher "the best hope for a global music of the future." Christopher has been a guest artist at multiple music festivals including the Thailand International Contemporary Music Festival, the Geneva Music Festival and Electronic Music Midwest. He has performed at numerous venues including Weill Recital Hall, Salle Cortot, The Kennedy Center, Melbourne Recital Center, Cultural Center for the Philippines, Saugatuck Center for the Arts, The Egg Beijing, Le Poisson Rouge, Benaroya Hall, Hahn Hall, Paul Hall, Jin Mao Concert Hall. He is the founding pianist with the Bangkok Piano Trio and Eon Piano Trio which one of their concerts was graced by the presence of H.R.H Princess Galyani Vadhana.
Born in Christchurch, England, Christopher began his piano studies at age six with his father. He moved to Thailand at age seven, residing with his father, British, and mother, a Thai citizen of Chinese heritage. He graduated Magna Cum Laude from the University of Missouri-Kansas City as a Bachelor of Music studying under Doctor Robert Weirich, a Master's Degree from Rice University and graduated from the Doctoral of Musical Arts program at Rice University under Professor Jon Kimura Parker.
He is the co-founder and head faculty of the Piano Academy of Bangkok, and his students have won multiple national and international awards, including top prizes in the Kaufmann International Youth Piano Competition (New York, USA), the Robert Schumann International Youth Piano Competition (Dusseldorf, Germany), the Piano Competition for Young Musicians (Enschede, Netherlands), Chicago International Music Competition, Russian International Piano Competition, among many others. He is the CEO of Chris the Pianist Productions, and has worked as director and producer on commercials, music videos, documentaries and company promotional videos.