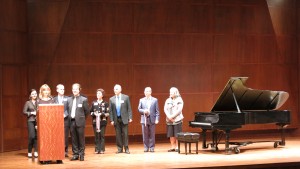 Rules, awards, and applications have been updated for the upcoming 2017 Seattle International Piano Competition in October. Part of the bi-annual festival, the SIPF encourages pianists of all ages and nationalities to apply to the 7th edition of this competition.
Singled out in 2010 by The Wall Street Journal as one of the world's most inclusive competitions, the SIPC continues to provide one of the most equitable opportunities for artistic recognition in the world. This two-round competition* invites aspiring artists to submit recordings in order to compete for prize money, recognition, and other awards.
Increased award money for the 2017 competition and new performing opportunities for semi-finalists during the October festival are among the changes for the 7th bi-annual competition.
Open repertoire
No age limits for adult categories
Over $15,000 in total prize money
Recorded preliminary round
Live final round in Seattle in October
All rounds conducted blind
Deadline for applying: May 15, 2017
Preliminary Round Results Announced: On or after August 1, 2017
Final Round: October, 2017 (date to be announced in later March)
* Outstanding Amateurs and Youth, Ages 9 and Under are considered semi-competitive. For these two categories, the competition is considered a one-round competition based solely on submitted recordings. Unranked gold medalists are invited to perform during the October festival during which they will receive their awards and have the opportunity to compete for an "audience favorite" award, among other non-medal prizes.