Bowlby and Kaminska in Concert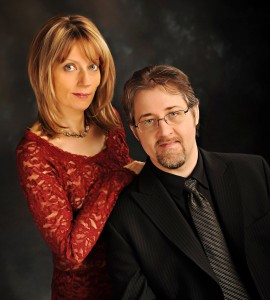 On Saturday evening, April 2 at 6 pm, immediately following the 2016 Virtuoso Festival, guest pianists and SIPF organizers, Ivona Kaminska and Christopher Bowlby will perform in a special recital event. This is the final concert on the 2015-16 season of the KB Piano Series.
Pianists Ivona Kaminska and Christopher Bowlby have established themselves in the Pacific Northwest and internationally as a sought-after piano duo team, as soloists, instructors of gifted students, and as clinicians and lecturers at prestigious festivals.
Co-founders of the Seattle Int'l Piano Festival ("SIPF"), they have changed the musical landscape in the Northwest, bringing international artists and talent of all ages from abroad to the audiences of Seattle. Together, they also created the Chopin Academy of Music in Issaquah in 2005, which today is a renowned institution for those seeking great education and performing opportunities.
Ivona Kaminska and Christopher Bowlby have performed together for over eighteen years. Developing a vast duo repertoire seemed a natural notion from the very start of their collaboration, form the time they met as students in the class of the Clinton/Narboni duo at the University of Nebraska in 1996. Since then, they developed parallel to their solo and pedagogical career a serious devotion to duo literature. They have performed regularly throughout the USA, Canada, and Europe, presenting both traditional repertoire, featuring such masterworks as Schubert's F minor Fantasia next to Stravinsky's Rite of Spring as well as modern compositions of living composers, such as Rashamon (2005) by Washington composer, Jeff Junkinsmith. They have served on the jury of the International Sigismund Thalberg International Piano Competition, and are regularly invited as guest lecturers and performers during international festivals and conventions.
In Program
Schumann/Liszt: Widmung
Ivona Kaminska
Frédéric Chopin: Ballade No. 1 in G minor, Op. 23
Christopher Bowlby
Francis Poulenc: Sonata for 4-hands
Ivona Kaminska & Christopher Bowlby
Maurice Ravel: La valse
Christopher Bowlby
Franz Liszt: Mephisto Waltz No. 1
Ivona Kaminska
This special event takes place at 6 pm, Saturday, April 2, 2016 in Lee Theatre on the campus of Forest Ridge School of the Sacred Heart at 4800 139th Avenue SE in Bellevue. The event is free and open to the public.