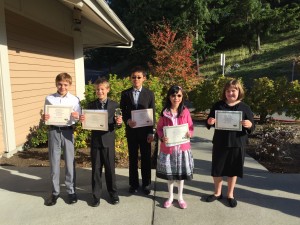 Dear participants, their families, and coaches:
The results are in! After a long review of stunning entries, the adjudicators of the
2022 Virtuoso Artists Festival
have reached their decisions. We would like to thank the dedicated artists who prepared their entries so lovingly and the instructors that guided and inspired them.
As a reminder, all results are final and unappealable. We thank you for your participation, and we are grateful for the expertise and energy of our jurors,
Jungheng Chen
,
Christopher McKiggan
,
Kelli Stephens
,
Alexander Tutunov
, and
Francis Yang
— all of whom greatly enjoyed hearing your submissions, commenting uniformly on the high level of preparation and incredible talent. In the coming days, we will disperse the digital certificates and comment sheets. These will be dispersed directly to participants via email. Be sure to share them with your teachers. Note that some participants who did not receive a prize are not listed on the winners' page, but will receive participation certificates. Thank you in advance for your patience as we distribute these items.
All participants are to be congratulated on your dedication and hard work! Congratulations to the performers, families, and many talented instructors that made this event possible. Browse the winners' page linked here and find the video performances of the many distinguished gold medalists.
If you cannot find your name, use your browser's search function.
Congrats again!